12-25-2018, 09:10 PM
Hello everyone,
Merry Christmas!
I created a little deer before I went to sleep last night named
Noel
.
When I woke up, many people were asking to trade for her.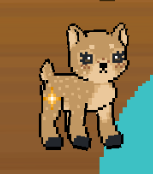 So...I decided I'll be making clones for everyone who sends a trade
ONLY today
!
The trade
MUST
be made on
Christmas Day
for it to qualify.
My name on Pixel Petz is Miki.
I'll try to get the clones to you ASAP!
Have a wonderful Christmas everybody!