I played petz for years by myself before even finding out about the community. Before I found the RKC I mainly specialized in Siamese catz. I have a 'Sophisto' in Catz and I spent my time in the later games naturally raising and breeding them for mutations.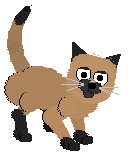 A world opened for me when I discovered the RKC. I discovered high generation mixies and unique hexies, the very first I adopted was Belle:
She caused me to fall in love with the calico breed, which now is the vast majority of my crew. Along the way I managed to adopt some lovely hexies of my own from my dear oldie Vetur to my newest dog, Julian. <3
I got a crew which felt truly special and my own, and I even opened my own website,
Hemlighet
! None of this would have been possible without the amazing petz community and the wonderful friends I've made in it. <3
What's your petz story. Did you grow up with these games? Have you ever been a member in the community? Let's share some memories!
As long as I'm

breathing

, there is not a limit to what I can

dream

.
hemlighet.eu